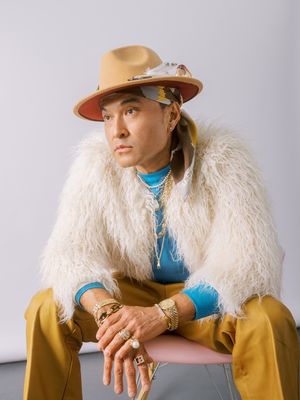 Photo Cred: Mark Chua
• Currently has over 60,000 followers on Facebook and over 21,100 followers on Instagram
Lyrics Born relocated to the United States from his birthplace of Toyko, Japan right around the time Hip Hop was exploding on the East Coast. From the moment he heard Sugar Hill Gang's 1980 classic "Rapper's Delight,"  the Bay Area Hip Hop luminary knew he'd found his calling. Twenty-five years later, LB has obliterated the stereotypes of what an MC is "supposed to" look like and captured the hearts of countless fans who gravitate to his distinctive voice. He's now the only Asian-American MC to release 10 studios albums and the first to play major music festivals like Coachella and Lollapalooza.
From his Quannum Recordings debut with Latyrx, 1997's The Album, to 2003's seminal solo album Later That Day, he's consistently pushed the boundaries of his craft. His newest project, Quite A Life, is like the exclamation point on his milestone year. "Ten albums is a lot for any artist, let alone an indie artist who colored outside the lines, so to speak,"  LB says. "I'm just appreciative there was always somehow a path for me, no matter how impossible it seemed — either on paper or in practice."
As the first Asian-American to release a greatest hits compilation, he's pumped out multiple smash singles across four official studio albums. From "Stop Complaining"  to "Callin' Out"  and "I Like It, I Love It"  and "I Changed My Mind,"  his material has always retained a musically eclectic feel. The self-proclaimed "funkiest rapper alive" carries on his tradition of weaving funk and soul into classic, boom-bap Hip Hop on Quite A Life. Without the influence of icons like James Brown, George Clinton, Bootsy Collins, Zapp and Rogers, LB admits he wouldn't be who he is today. Coupled with his love of rap pioneers such as KRS-One, Rakim and Snoop Dogg, LB's music is the perfect Hip Hop and funk-flavored gumbo. For live shows, LB often recruits a full band to "keep it all the way funky"  for his audience. Coupled with wife / singer Joyo Velarde's powerful voice, the unrelenting energy of his performances electrify every crowd.
Since establishing himself among the upper echelon of indie Hip Hop artists, LB has expanded his empire into film. This year, he has roles in Boots Riley's critically acclaimed film Sorry To Bother You and the Netflix movie Always Be My Maybe starring comedian Ali Wong and Keanu Reeves. "I'm funny, or so I'm told [laughs],"  LB says. "I absolutely love comedy and being ridiculous. These past couple films have been an incredible experience. I'm especially proud to be a part of films that challenge norms, and it doesn't hurt to work with your friends either. I really love comedic acting. As an artist, it's like another color on my palette. I will be doing more advocating for the underserved in the arts as well, particular for Asian Americans and other people of color. The world needs the same diversity in the arts as we do in real life."
As LB continues the next chapter, he jokes that he's become that "old stubborn Japanese man"  who says what he wants and he's not planning on going anywhere. In fact, his goal over the next 25 years is to make another 10 albums and more films. Most notably, he wants to continue providing a platform for other Asian-Americans, a slice of the population that is consistently underrepresented in pop culture. When he looks back on the last 25 years, he has nothing but gratitude for his position in the Hip Hop space, and life in general. "I'm just blessed and grateful to be alive and pursuing my passion after 25 years,"  LB says. "That's mind-blowing for me when I really think about it. All the obstacles I've faced and accolades I've received, I can only be thankful."