Amendola Vs. Blades
w/ special guests Skerik & Cyro Baptista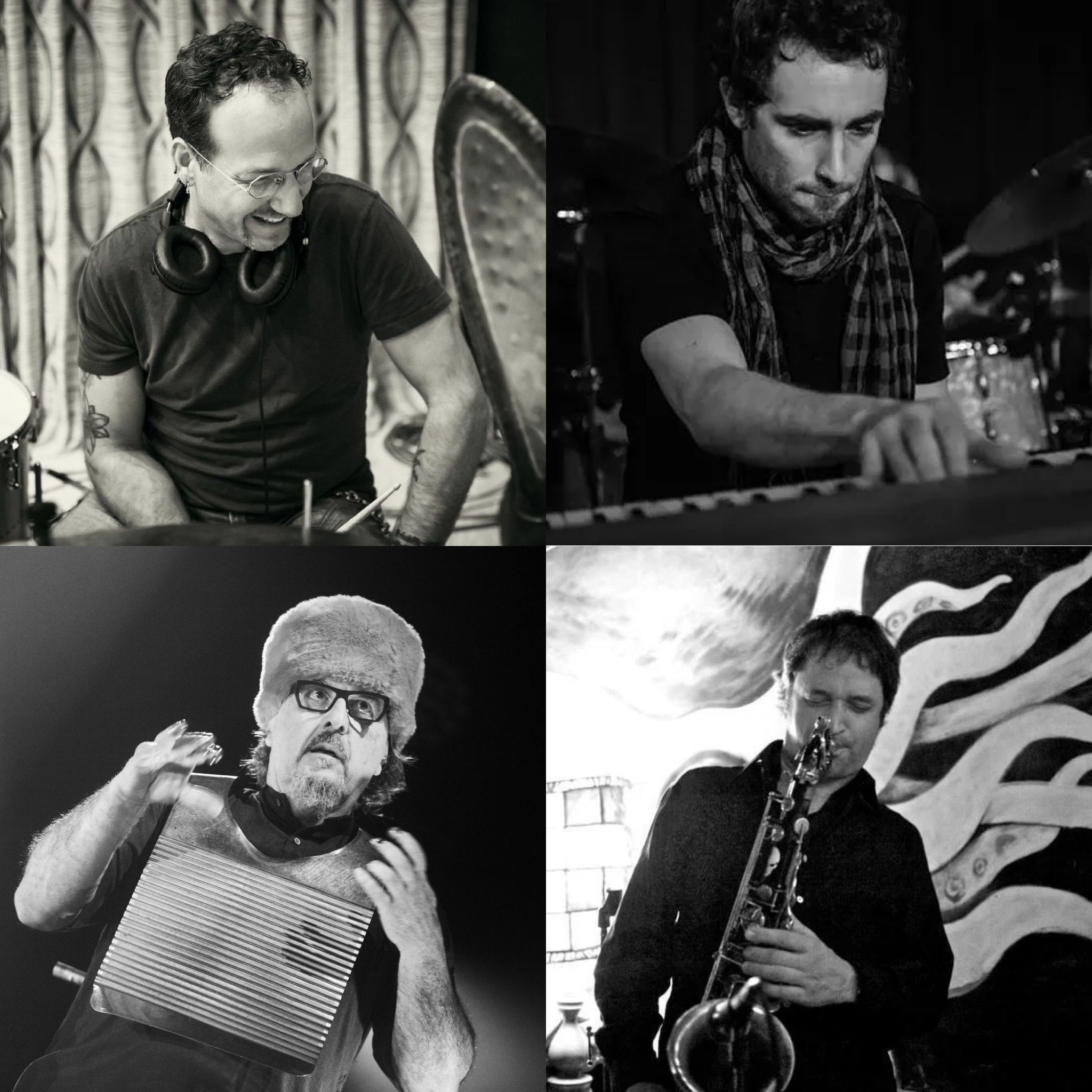 "They capped the night off with a gentle jazz waltz that turned into a cover of Jimi Hendrix's "Manic Depression" before sending the audience off with one word on their lips—'Wow.'
-

Live For Live Music
"Sometimes it just ridiculous how much sonic space Scott Amendola and Wil Blades alone can fill up in a room. Freakishly funky and soul satisfying, this dynamic duo push the limits on their Greatest Hits, while having too much fun doing it."
-
Something Else Music, November 2016
"A delightful sonic journey"
-Jazz Times
"As for Wil Blades and Scott Amendola, these two Young Turks of San Francisco jazz are bringing the organ-drum duo into the 21st century."
-SF Chronicle
"Lean and mean, the the Amendola vs Blades duo has firmly established itself as one of the liveliest acts in the Bay Area."
-The Jazz Observer
"From beginning to end, Everybody Wins is an outstanding sophomore effort from Amendola Vs. Blades" 
-

Slide and Banjo 
"Scott Amendola is quickly becoming my favorite drummer in all of drummerdom...Always innovative and inventive, he doesn't beat around the bush (no pun intended), he doesn't seem to beat a single square inch of drum that doesn't deserve to get beaten, but he's always fooling around, always in your face, going crazy with that irresistible smile on his face"
-Good Times
"Yeah, he does it...he's on it.  He is the future to carry on the legend, the legacy of the organ, [of] the B-3."
-Dr. Lonnie Smith - Pioneer and Legend of the Hammond B-3 Organ
Wil Blades and Scott Amendola conjure various sonic deities though only a duo. For the past 10 years, their live shows have been generating a buzz around the San Francisco Bay Area. The two got their start as a group when Scott had the vision of performing Duke Ellington's "Far East Suite" in duo with Wil.  While quite a daunting task translating a suite (originally written for a big band) into duo, the Hammond Organ had previously been used in the 1940's and 1950's to emulate the sound of big bands.  With Wil's knowledge of this tradition and Scott's desire to push boundaries, they were able to pull it off in an explorative, yet cohesive manner.  The duo continues to perform pieces from the Ellington suite, while also developing their original material. Their live performances are fun and playful, yet deeply musical. They can cover everything from Avant Garde to Funk, Bebop to Rock, sometimes within one song. In June 2015, at Duende in Oakland, CA, they set up shop for two nights and recorded in front of a live audience. The resulting release, entitled "Greatest Hits", is now out on SAZi records and has been receiving rave reviews!  

Wil Blades
• 2017 Downbeat Critics Poll Winner: Rising Star–Organ
Blades, a native Chicagoan, has become the San Francisco Bay Area's first call organist and is rapidly gaining momentum throughout the world. Since 2006, he has been named in the Downbeat critics poll every year under "Rising Star" for organ. Wil has kept the traditional sounds of Jimmy Smith, Larry Young, and "Groove" Holmes alive, while creating a more personal, modern sound.  Wil has performed and recorded with John Lee Hooker, Dr. Lonnie Smith, Melvin Sparks, Idris Muhammad, Joe Louis Walker, Nicholas Payton, Donald Harrison, Karl Denson, Will Bernard, Charlie Hunter, Stanton Moore, and many others.
 
Scott Amendola
 
An organizer by nature, Jersey native Scott Amendola has become a creative nexus for a community of musicians stretching from Los Angeles and Seattle to Chicago and New York. Amendola's inspiration stems from such stylistic influences as African music, jazz, blues, spirituals, rock, and the avant garde. Scott has never been satisfied with just being a masterful drummer, he has spent his career pushing music in new directions. Scott has toured, recorded, or performed with Bill Frisell, Dave Liebman, John Zorn, Wadada Leo Smith, Jacky Terrasson, Larry Goldings, Jeff Parker, Madeleine Peyroux, Sex Mob, Wayne Horvitz, Johnny Griffin, ROVA Saxophone Quartet, Pat Martino, Nels Cline, Peter Apfelbaum, Jim Campilongo, Ben Goldberg, Mark Turner, Michael Franti, Phil Lesh and others, and has toured extensively throughout Europe, North America, and Australia.
Cyro Baptista
 
Cyro Baptista is a Brazilian born percussionist and composer whose vast talent and penchant for innovation brought him to be praised as one of the most respected musicians in the world.  Cyro's endless sonic curiosity and intense rhythmic led him to create several musical ensembles and record many albums of his own. He has also lent his sounds to several GRAMMY award-winning records and to over 300 CDs with many of the most beloved musicians in the world. 
Cyro's credits read like a "Who's Who" of modern music. His talent and versatility have led to associations with a wide range of leading jazz, rock, pop, classical, avant-garde and Brazilian artists. From Paul Simon to Yo-Yo-Ma, Herbie Hancock to Kathleen Battle, Trey Anastasio  (Phish), to John Zorn, Wynton Marsalis to Laurie Anderson, from the legendary Brazilians Milton Nascimento and Caetano Veloso to Sting –  they all wanted Cyro's magic touch on their recordings or live performances.
Baptista leads four different ensembles with ten released albums under his name. He tours continuously throughout the world with them. He conducts master classes at major musical institutions, such as Juilliard School, Berklee College of Music, New York University, Mannes College of Music, The New School, Holy Cross University, New World Symphony Orchestra, University of Vermont, University of Buffalo, Kimmel Center Jazz Camp, and K-12 schools across the country.
Baptista has a great interest in education and sharing his knowledge and experiences, especially to underserved factions of society through his "Sound of Community" initiative.
Skerik
 
Decade upon decade, Skerik remains the tireless steward for one of modern music's most diverse, adventurous & passionate bodies of work.
Skerik's world is one where dialogue flows freely between wildly disparate strains of musical thought... where no borders exist between jazz & sludge metal, where elements of Congolese soukous dialect might find their way onto the million-selling records of an alternative rock band, where an avant-garde electronic translation of Ornette Coleman's deepest & darkest fantasies (shared with a select few listeners in a small club) easily attains the same level of satisfaction & meaning as an exuberant explosion of jazz/funk catharsis (shared with hordes of sweaty festival crowds all over the world).
It is a world where all sounds may communicate freely with each other, so long as they all originate from true inspiration & good faith. They may encounter friction & chaos along the way, eventually emerging in a shared harmonious understanding... or perhaps they might remain in friction & chaos, screaming in musical hellfire until the next chapter begins. Safety is never guaranteed in these woods, but boredom will never rear its head. That's a promise.