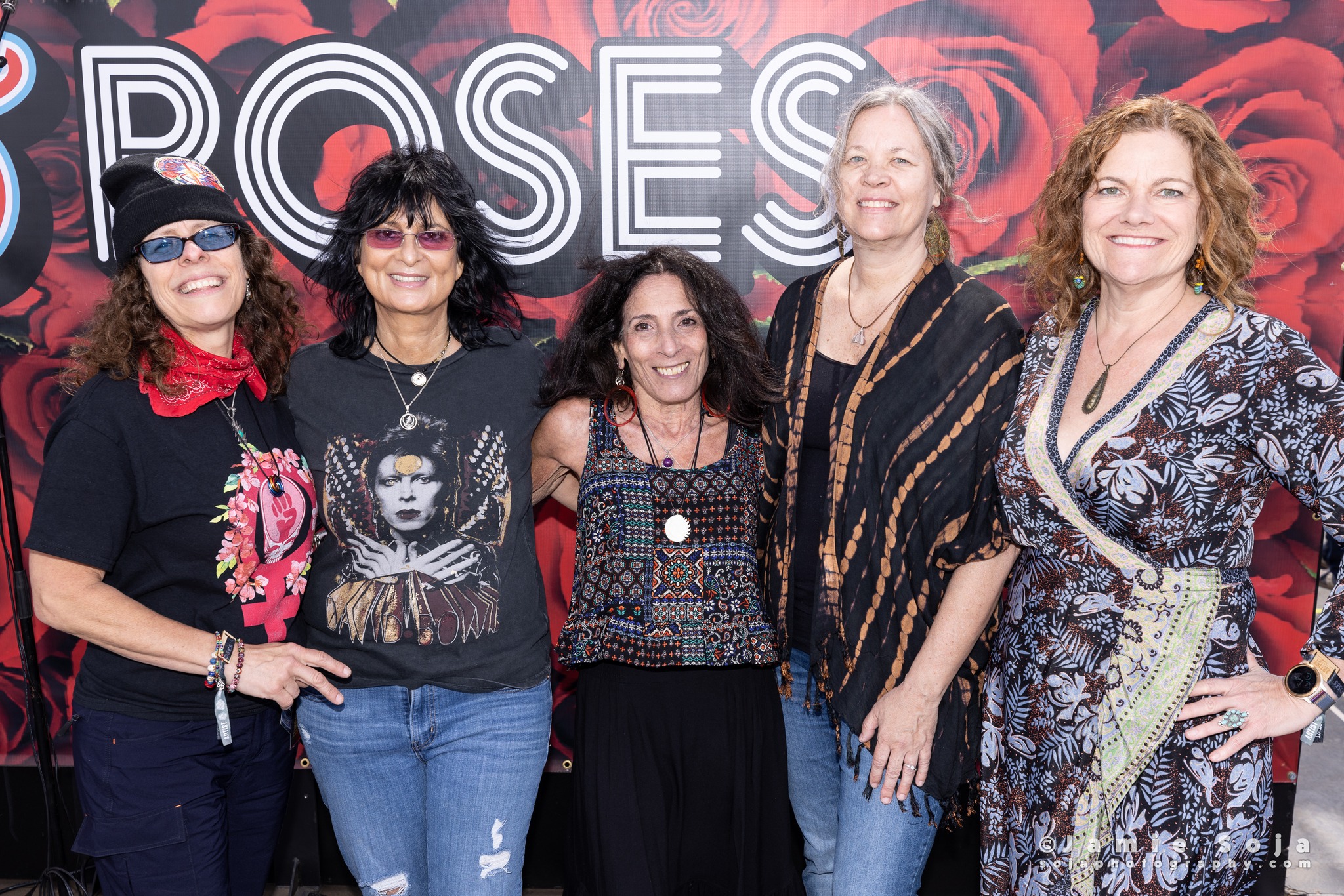 "Some Dead tribute acts are straightforward and quite popular, like Dark Star Orchestra, which recreates specific Dead concerts by set list. Others employ the Dead's music as a jumping-off point. There is a jazz band and an Afrobeat one. Brown Eyed Women is all female. Warlocks of Tokyo sing in Japanese.
"My favorites at Skull and Roses were bands that no one outside their hometown knew. I liked the all-female, Brown Eyed Women, who hail from Massachusetts, New Jersey, Florida, New York, and Pennsylvania," McNally said. "
Brown Eyed Women, the world's only all female Grateful Dead tribute ensemble, features musicians from popular bands around the country. They celebrate the music of the Grateful Dead with a unique spin.
Members hail from Massachusetts, New Jersey, Florida, New York, and Pennsylvania. Their high-caliber musicianship and shared love of the Dead drew them together. This  band is decidedly different in a field brimming with tribute acts. BEW brings authentic jams and a soulful new approach to the familiar Grateful Dead catalog.
Joni Bottari (Lead Guitar) grew up on the Jersey Shore and was initially inspired to pick up the guitar by listening to the renowned musicians hailing from the area, and by the unique sounds emanating from that region of the country. In the early 70's, she "accidentally" heard her older brother playing Grateful Dead records, triggering a life-long love affair with their music. She currently leads her own local Grateful Dead tribute band, Spiral Light, and has shared the stage with world renowned artists, from rock and roll Hall of Famer, Dion, to lap steel virtuoso Roosevelt Collier. When not obsessively honing her guitar tone, Joni passionately follows the New York Rangers and fosters German Shepherds.
Dana Carroll (Bass) - Originally from Philly, Dana now calls coastal New Jersey home. She has performed in many projects over the years, and since 2011 she has been enjoying the grateful vibes in her Grateful Dead tribute project, Lovelight Band. Dana has shared the stage with Scott Guberman (Phil Lesh & Friends), Michael Falzerano (Hot Tuna, New Riders of the Purple Sage), Hot Tuna's Bob Steeler, along with other prominent jam scene players. Dana, musically inspired at a young age, has been playing bass since the age of 12. Dana is passionate about playing music, and also enjoys the tranquility of grounding of flower gardening.
Caroline Killoh (Keys, Vox) is passionate about playing / singing all eras of Grateful Dead and related live jam oriented music. She has shared a stage with Terry Sylvester of the Hollies, and numerous New England rock / jam heavy-hitters, has played in a Beatles tribute, GD night at Fenway Park, her originals project Sonejy, and is currently playing and / or sitting-in on a regular basis with several regional GD & JGB tribute bands including Fennario and Don't Let Go, when not on tour with Brown Eyed Women.
Denise Parent (Drums, Lead Vox) lives in Woodstock, NY and plays in The Deadbeats in NY's Hudson Valley and Capital Region. Over the years, Denise has played with Steve Kimock, Vassar Clements, Buddy Cage, Jeff Mattson, Rob Barraco and David Gans, just to name a few. Lately Denise fronts her own band, Rock City Junction, where she sings and plays rhythm guitar and percussion and performs her original songs.
Jill Paone Simmons (Lead Vox) - Jill's career spans a lifetime of singing different musical genres, from Broadway to the Blues, from folk to funk and everything in between, but Jill found her "home" in the Grateful Dead scene when she joined Pittsburgh jam band, theCAUSE, in 2008. Since then, she's shared the stage with some icons in the jam band scene including Steve Kimock, Jeff Mattson and Lisa Mackey and Dark Star Orchestra, Stu Allen and Scott Guberman. Jill brings a Blues / folk /jazz dimension to the Grateful Dead song book, paying homage to the original vocals while adding her own style…an ethereal Birdsong, a hot Hard to Handle and soulful Sugaree. With Brown Eyed Women, Jill joins a group of world-class female musicians to showcase her creative and powerful vocal talents to a broad audience of Grateful Dead lovers.