Scott Law & Ross James' Cosmic Twang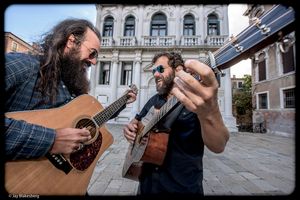 "The guitar is definitely the center of the Cosmic Twang project with Scott Law and fellow axman Ross James. Onstage it was clear these two share a sort of guitar bro-mance, and a deep love of the Grateful Dead...with a distinctive country music element"
-

Glide, February 2017
"From the first note they played together, there was an obvious connection. They both share a love for the classic sounds of Bluegrass and early Rock 'n Roll along with an open mind and ear for psychedelic sonic exploration"
- 
Garcia's at The Capitol Theatre in Port Chester, NY
Scott Law & Ross James first met at Phil Lesh's Terrapin Crossroads in San Rafael, and have been blazing a trail through their own blend of psychedelic country rock n' roll music ever since. They share a passion for pushing musical boundaries, and have an amazing sense of improvisation and connection. On any given night you will hear the influences of Bill Monroe, Merle Haggard, The Grateful Dead, or the Velvet Underground running through their music. Cosmic Twang are recognized for their stellar sit-ins, and their unique ability to bring those guests into their musical fold. Memorable collaborations have included Phil Lesh, Dave Schools, Nicki Bluhm, Stu Allen and Cass McCombs.

Ross James is a multi-instrumentalist, singer/songwriter, production manager for Phil Lesh & Friends, and executive director of Terrapin Crossroads in San Rafael, California. Ross currently resides in the San Francisco Bay Area, but grew up in Michigan, and spent his childhood seeing live music around the Detroit area, with favorite bands like Green Day, The White Stripes and Lou Reed influencing his interest in guitar and sound. Ross currently uses his killer guitar and improvising skills while playing with Scott Law & Ross James' Cosmic Twang, The Terrapin Family Band, and Phil Lesh & Friends.
 
Scott Law is an accomplished guitar master, singer­-songwriter and recording artist operating at the very highest level of his craft.Hailed as an "esteemed flatpicker" by Acoustic Guitar magazine, Scott is also a fearless improviser. His versatility on the guitar ranges from the country pickings of Clarence White, to the electric blues of Mike Bloomfield, while also giving a feel and fluidity reminiscent of Jerry Garcia. Scott's original songs and story­-like solos come straight from the heart of rock, rhythm & blues, country and bluegrass, granting him the creative latitude to constantly push the envelope and deliver an unforgettable experience. Scott lives in Portland, Oregon, and currently has a monthly week long residency at Terrapin Crossroads in San Rafael, CA,  where he collaborates with artists ranging from Peter Rowan, Stu Allen and Phil Lesh & The Terrapin Family Band.