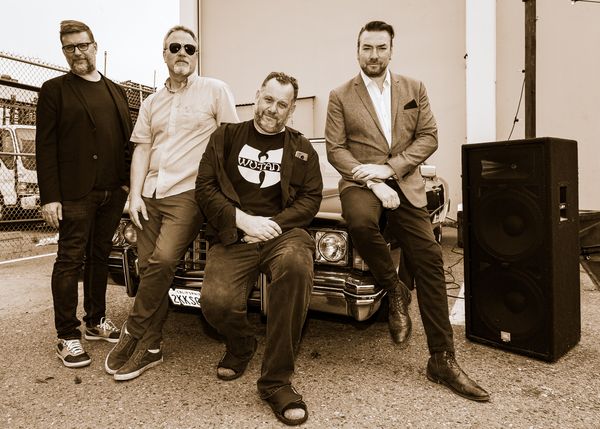 "Although the project is new, all four members have played together in many configurations over the years and have an automatic chemistry and sense of musical shorthand."
- Glide Magazine
"Supergroup The Rare Sounds Release Debut Single 'Yeah, You!'
- JamBase
"...a gritty and urgent bit of 70s-like jazz funk and fusion centered around a relentlessly funky groove and some inspired soloing...."
- The Joy of Violent Movement
Featuring Founding Members of The New Mastersounds and The Greyboy Allstars:
Eddie Roberts - Guitar (The New Mastersounds)
Robert Walter - Organ & Keyboards (The Greyboy Allstars)
Chris Stillwell - Bass (The Greyboy Allstars)
Zak Najor - Drums (formerly The Greyboy Allstars)
It all started at The Yardbird Suite in Leeds, UK in 1996. The legendary jazz-funk revivalists, The Greyboy Allstars, embarked on their maiden voyage to the UK with a stop at the legendary jazz club hosted by Eddie Roberts and a supporting set from his organ trio, The Three Deuces. That night sparked a mutual admiration between both groups as they had met their cross-continental counterparts who were reinvigorating 60s boogaloo soul-jazz. It was a once-in-a-lifetime connection between devout loyalists of exploring vintage tones, digging for records, and forging paths as trailblazers of the funk and soul revival in the late 90s and early 00s.
Roberts would later form the international funk group The New Mastersounds in 1999 whose expansive career has issued 12 studio albums, earned coveted appearances at international festivals, and even made headway on the Billboard contemporary jazz albums charts with the release of their 2019 studio album 'Shake It'  that celebrated the group's 20th anniversary. Meanwhile, The Greyboy Allstars continued to preserve the heritage of jazz-funk giants while cultivating timeless music of their own as individual members of the group would flourish into sought-after collaborators, notable film composers, and studio standouts.
With Roberts residing in the US, collaboration with members of The Greyboy Allstars became frequent, especially between him and keyboardist/organist Robert Walter. Using his own record label and music platform, Color Red, as a springboard, they could now travel back in time to their initial meeting 26 years ago and assemble the dream team of funk enthusiasts and analog recording devotees featuring Roberts on guitar, Walters on keyboards, GBA's Chris Stillwell on bass, and GBA alum Zak Najor on drums.
Despite being a brand new project, all four members of The Rare Sounds have played in numerous projects with each other over the years and have automatic chemistry and musical shorthand. Everyone gets all the references and shares a common language and love for the traditions of the music. The group recorded 10 tracks for their debut LP at Hyde Street Studios in San Francisco, CA in August 2021 and made their live debut at Cervantes' Masterpiece Ballroom in Denver, CO for two packed-out nights leaving listeners in eager anticipation of what's to come. The group will release their debut LP via Color Red in summer 2022.
0:00/5:21

0:00/5:23

0:00/7:03

0:00/5:00

0:00/5:54

0:00/5:50

0:00/9:46