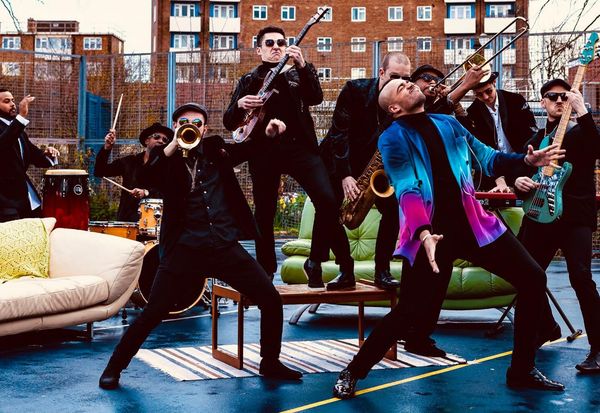 "...one of the rowdiest, sweatiest and most exuberant sold-out nights this place has seen. With electrical jump leads attached, this human dynamo could power a medium-sized town. He has an eye-popping vocal range, a hard-grooving band and has just published an album of his own with some dangerously dance-able original tunes."
- London Jazz News
"Rising stars of Soul and Funk Music" 
- Cheltenham Jazz Festival
"Proudly carrying the spirit of James Brown and Tower of Power"
- Soultracks.com
"One of UK's freshest, funkiest new soul groups"
- Craig Charles, BBC 6 Music
"These are original songs that dip into timeless strands of soul"
- Vanguard Online
Hailing from the small town of Ipswich, UK, The Ashton Jones Project are rising stars who have cemented their reputation as one of the country's freshest and most talented funk and soul groups. Championed early-on by BBC Radio 2, Craig Charles and BBC 6 Music, the band are rapidly becoming known for their vibrant and dynamic live performances, drawing influence from James Brown, Stevie Wonder, Earth Wind & Fire, Rick James and Prince. With a throwback style rarely seen across the pond, The Ashton Jones Project deliver soulful melodies, gritty funk and sparks of falsetto with an audience captivating brand of energy, musicianship and flair.
The group features some of the UK's most gifted young musicians who have performed with artists including Cory Wong, Pee Wee Ellis, Beverley Knight, Incognito & Joss Stone. Following on from the success of their self titled debut EP, the group released their hotly anticipated debut album 'Toast', a contemporary interpretation of funk and soul music, described by Vanguard Magazine "as if Earth Wind & Fire and Stevie Wonder worked together and got Prince in for a guest-spot". The album was added to the 'All Funked Up' Official Playlist by Spotify Editorial and has accumulated over half a million streams to date. Craig Charles called the release "phenomenal".
Along with support slots for Grammy award winning Shalamar, The Ashton Jones Project have also appeared at a number of international festivals including Cheltenham Jazz Festival, where they returned to perform last year as special guests of UK soul giants Incognito.
0:00/3:35

0:00/3:35

0:00/4:08

0:00/2:24

0:00/5:47

0:00/4:24